At times, one doesn't find enough motivation to exercise. Such a situation arises when a person carries a lot of excess weight. This article is meant to make the readers aware of what are the Best exercise for overweight people. For some, the issue seems tougher than imagined. Therefore, it isn't rare to find a person losing hope before even starting. Every coin has two faces.
Similarly, this situation has a different side to it too. There are plenty of individuals who have enough motivation but, soon get out of breath and thus, stop exercising after a few minutes. Cases of reluctance can arise due to several reasons. For instance, a person may think of exertion to trigger a medical emergency.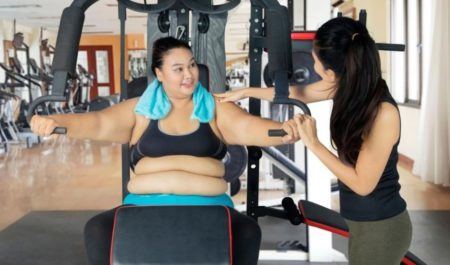 Though the emergency is more likely to occur if the person stays idle and continues to put on weight. When you are in the public, carrying out exercises to lose weight, don't be embarrassed if someone stares at you. Because you are working out to look good and stay healthy. A mere stare from someone you may never meet again isn't sufficient to put your workout at a halt. Moreover, the other person may be admiring you for your dedication.
Inventory of Workouts for Obese Female.
Precaution.
If you are a sedentary individual of over 40 years of age, a person suffering from a medical condition that doesn't allow you to exert yourself more or an overweight person, it is recommended to consult a doctor before undertaking a fitness program. Take your pick for the best exercise for overweight female from the list. The first category includes low-impact cardio workouts to lose weight. The exercises under this category include,
Walking – A Perfect Calorie Burner.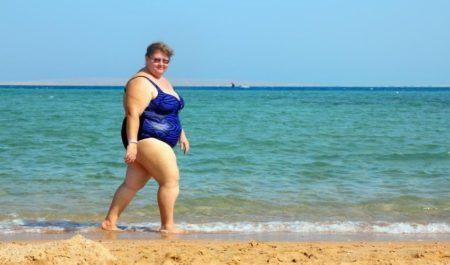 Walking is one of the best exercises to lose weight. Basically, it doesn't matter whether you are a man or a woman, walking plays a great role in getting an overweight person leaner. Walking doesn't need practice, because everyone knows how to. It is a low-impact cardio workout and thus, doesn't stress your joints.
Moreover, you can walk almost anywhere and a pair of walking shoes is the only equipment you require for this exercise. Walking doesn't just burn calories. It improves your stamina as well. Initially, start with a non-stop walk of ten minutes or at least, 5 minutes. Take your time and increase the speed and duration of your walk gradually.
Interval Walking – Challenging Yet, Very Effective.
When you have successfully built up some endurance, it won't take you long before you wish for something more intense. Though interval training is a bit tough, you can easily incorporate it into your walks if you prefer to take things a bit slow. In the initial stages of interval walking, it is advised to start from a three-minutes regular pace walk and continue walking very fast for the next 30 seconds. Carry out this procedure for twenty minutes to half-an-hour.
It is advised to gradually reduce the duration you walk at a regular pace and increase the duration of very fast walking.
Water Exercise – The Best Exercise for Overweight Female.
If a person is relatively more overweight, walking may cause a joint point. In such a situation, water exercises such as swimming come to everyone's rescue.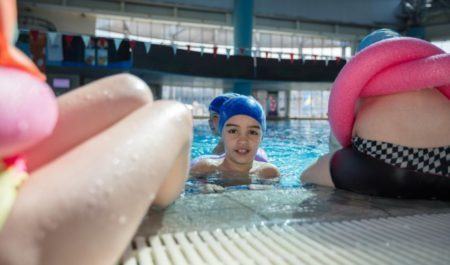 Water exercises are ideal alternatives. Water takes the pressure off your joints by supporting your weight. It won't be wrong in any way to refer to water exercise as the best exercise for overweight female.
Best Exercise for Overweight Female to Carry Out at Home?
Workout DVDs.
Beginner workout DVDs are ideal companions to workout at home. These DVDs offer you optimum privacy and allow you to workout at the pace you are more convenient at. Upon losing your pace, you can easily pause the workout DVD and start again after catching your breath. Have a look at a meticulously developed workout DVD from Walk On. 6 Mile Mix is a perfect workout DVD. It features numerous low-impact workout videos for women. The product costs $14.98 on Amazon.com.
Exercise Equipment.
If you don't prefer to work out in the public and workout DVDs don't suit you, don't be anxious. You can shop for your own exercise equipment. It can be a treadmill, an elliptical trainer or even a rowing machine, exercise equipment helps carry out the best exercise for overweight female.
Elliptical trainers are great low-impact exercise equipment. They help you carry out workouts which are quite easy on your body. Apart from losing muscles, with elliptical trainers you get a great chance to build muscles.
In accordance with your body weight and intensity of the workout, stationary bikes help you burn over 600 calories in an hour. After all, a person loses weight when the amount of calories burnt is more than the amount consumed.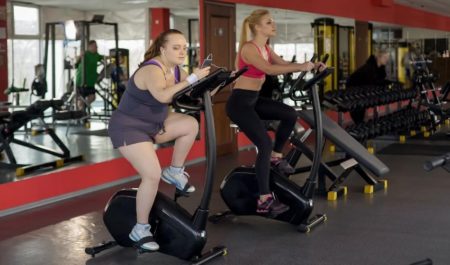 If space, you can provide at your home isn't sufficient to place bulky fitness equipment, a mini-cycle can be a great option. These are lightweight and compact. Moreover, mini-cycles are designed to help you lose weight while you are seated.
DeskCycle- Under Desk Cycle Helps You Carry Out the Best Exercise for Overweight Female.
This product is the current trend. Whether it is at home or in the office, this mini-cycle helps you stay fit always. The best part of this equipment is that it works even with lower desks, the ones as low as 27 inches. Bring home this impressive mini cycle from Amazon.
Sometimes, creating a personal weight loss workout plan may not seem feasible. Moreover, joining a gym or hiring a personal trainer doesn't suit all as well. In such cases, have a look at the following 6-week workout plan for women. The plan has wisely included the perfect blend of cardio and strength workouts to help you lose weight at home in just six weeks.
What Will You Need for the Plan?
A pair of lightweight dumbbells (5-8 lbs)
A pair of medium-weight dumbbells (10-15 lbs)
A Swiss ball
A step/box/bench
Perform the workouts in an order similar to the one specified above. However, you are free to follow the schedule provided or change it as per your convenience. This workout plan has the perfect mix of high-intensity interval training and promising recovery time.
It also includes several strength training exercises and helps you gain flexibility. When you follow the plan according to the order provided, burning calories and building muscles become a piece of cake. Moreover, the plan lets you work out with minimal equipment usage.
Does Tai Chi Ring a Bell?
When it comes to something relaxing, Tai Chi is the best exercise for overweight female. Though in comparison to a lot of other forms of exercise, Tai Chi burns lesser calories, it is still a great starting point.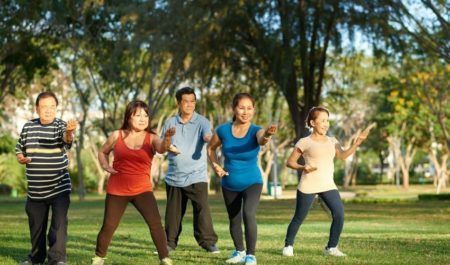 his workout has low-impact movements that are slow and gentle as well. Upon regular workouts, Tai Chi helps you with an improved balance and strengthened muscles.
Final Thoughts
It is hard to start with a new workout routine. Moreover, overweight or obese people face a greater number of difficulties in starting. The best exercise for an overweight female is not always available at the gyms you visit locally. Fitness studios may not help much in sorting this issue as well.
Moreover, preparing a personal program is not everyone's cup of tea. Therefore, we have put in great efforts to assemble the best exercise for overweight female.
Look through this article to eliminate every tinge of confusion residing within. Feel free to clear your doubts through the comment section.