Anytime is tea time when you have an indoor swimming pool. Swimmers do not have to be worried about weather changes. Swimming indoors accommodates almost all the age groups. Adults might be shy to swim in public swimming pools but having an indoor pool can give them the opportunity to exercise. In this article is going to explorer about what are indoor swimming pool exercises that can useful for losing weight.
There are various swim workouts that you can do indoors. Some of the pool exercises include aqua Zumba, walking, jumping jacks, and more. Most interestingly you can have an indoor pool in residential homes, hotels, workstations, and more. The indoor swimming pool is an expensive facility to set up but it is convenient.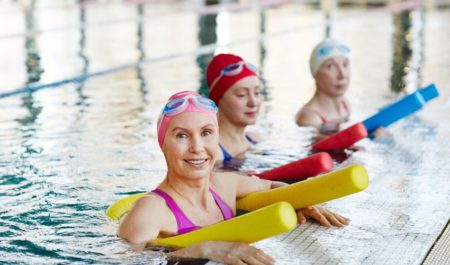 5 Indoor Swimming Pool Workouts
The indoor pools come in various sizes and shapes. Some are small inground pools while others are bigger. Regardless of the shape and size of a pool; there are a lot of swimming workouts that you can do indoors.  You can do your high-intensity exercise as well as simple exercises. Below are exercises that you can do.
1.Aqua Zumba.
This is an exercise where you spend most of your time dancing in the water. Aqua Zumba is known as water Zumba. There are a lot of Zumba dance routines that you can do in your indoor swimming pool. For example, there are many routines of cha-cha-cha, salsa, mambo, and many others.
These routines can be done in any size of a pool as an individual or as a team. Interestingly, almost any age group can do dance moves in the water. Your body gets an overall workout. As such the aqua Zumba is good for healing painful muscles and joints. Your body can also benefit from relaxation. Being in water relaxes your mind and it is also good for the heart.
2.Swimming.
Having a pool in your home or in the office is good for having private time in the pool. You can swim anytime you feel like doing it. This is because the pool will be nearby and also free to access. Therefore you can do some simple swimming routines according to your body's ability.
Swimming is good for cardiovascular fitness and healthiness. Additionally, you can strengthen body muscles and also keep your weight on check. Some other benefits include relieving your body of stress and keeping your heart rate healthier.
3.Lateral Arm Lifts.
This body is good for strengthening the upper body. It requires additional equipment such as dumbbells. It can be done by anyone who is keen to spice up things while working out in the pool. The lateral arm lifts exercise can be done at an individual level or as a group. Interestingly, you can strengthen your shoulders; make your arms lean and stronger.
4.Walking In Water.
This is a simple exercise that can be done in an indoor swimming pool. Older people can enjoy doing this exercise as it improves their balance. Walking in water exercise targets the entire body. Your arms, lower body, the core can benefit the most from the workout.
5.Jumping Jacks.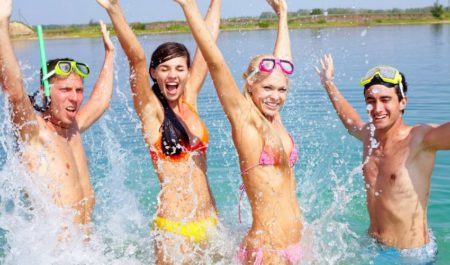 Jumping on a plain ground looks like a simple exercise though you can be left sweating and tired. Doing it in water is a killer workout that is also fun. It is good for working out your lower body as well as your upper body. When jumping in the water you keep your heart rate healthy.
Advantages Of Having An Indoor Pool.
An indoor pool at the home, workplace, and the hotel is advantageous to the users. Swimmers don't have to go afar to do their workout. This means that they can dive into water and workout anytime when they feel like doing so. Secondly, they don't have to be worried about weather changes. Rainy season makes it difficult to be splashing and working out in the water. However, with an indoor pool, you will be safe.
Thirdly, it is easy to clean an indoor pool compared to the outdoor pool. The indoor pool is not fully exposed to dirt. As such, you don't need any chemicals to keep it clean. Hence it safer from chemicals compared to an outdoor pool. Fourthly, there is more privacy when you are swimming indoors compared to the outdoor swimming pool. This is good for adults who are shy to be in public. It is also good for those who don't like sharing the pool with strangers.
Lastly, the indoor pool is convenient. You can use it throughout the year without any disturbances. It is accessible and cheaper. You don't have to be paying to use it compared to public pools. As such the pool can be used in winter and during the rainy season.
Disadvantages Of Having An Indoor Swimming Pool.
Indoor pools have their limitations as well. Firstly, you need a reasonable space indoor that can fit the pool of your choice. Secondly, it is expensive to build an indoor pool compared to an outdoor pool. Maintaining it is quite a challenge. The indoor pool can also produce humidity.
Clearing humidity caused by an indoor swimming pool can be a challenge, you might need a specialist. Excessive moisture can damage the walls.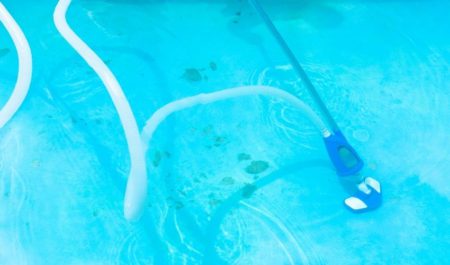 It weakens the paintings and form molds. Additionally, the pool is an expense. It can increase the electricity bill significantly through water pumping and heating mechanism.
How To Keep An Indoor Pool Safe And Clean.
An indoor swimming pool needs to be secure and clean for everyone's safety. Below are the things you should keep in mind when you have an indoor swimming pool.
Being an indoor pool does not mean that it doesn't get dirty. The pool needs to be disinfected to kill any germs that might breed in water.
Keep The Chemicals Away From Pets And Children
Chemicals are toxic and you must make sure that they are stored securely away from children and pets.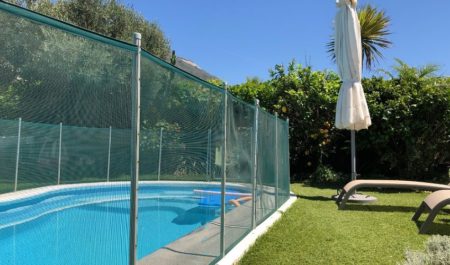 The pool is very dangerous if you leave it open. Children and pets can drown. Make sure that you cover the pool. You can surround it with a fence or a net. This can limit accidents. Make sure that you guard children when they are swimming to avoid any misbehavior that may lead to an unfavorable situation.
Conclusion
Having an indoor swimming pool is good if you like privacy. You can do whatever you like in the pool knowing that there are no strangers watching you. An indoor pool is ideal for a residential home, hotel, and workstation. It is expensive to build it but it is worth it. An indoor pool is easy to maintain.
It doesn't get too dirty compared to the outdoor pool.  With an indoor pool, you can do workouts anytime you feel like doing them. Weather changes do not limit you to do your workouts. Rain and cool weather does not limit people to do water exercises in an indoor pool. You can do several workouts in an indoor pool such as Aqua Zumba, walking in water, jumping jacks, and many others. Anyone can use the pool regardless of age and gender.  An indoor pool is the best facility that you can use for water exercises.
Would you prefer an indoor swimming pool or an outdoor swimming pool? Why?
Those who have indoor pools, share your experiences.