Aqua Zumba routines are all about doing a dance workout in water. You do the workout in a pool of water. It is more like partying in water; that is you will be exercising according to the music. There are so many regular Zumba routines that can be done in water. Some of them include salsa, cha-cha-cha, and many others. The routines are similar to the regular ones. The difference is that they are done at a slow pace in water.
You can spice up the dance moves by adding props such as dumbells and chairs. As you search for the water aerobics near me, Aqua Zumba is one of the classes that you may consider joining.  Different ages can do the workout as it can be done as a less or high-intensity exercise.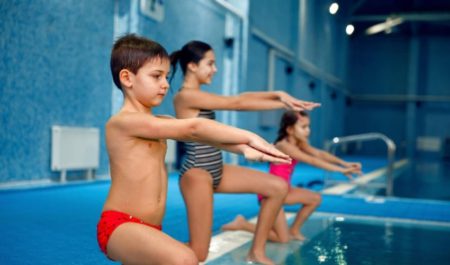 How To Do Aqua Zumba?
Aqua Zumba is good at a pool party. It is livelier when you do it as a group of people. You will need the instructor who will lead you as you do the dances in the water. The instructor does not need to be in the water. As such the dancers would be dancing in water but the instructor would be dancing out of water. However, individuals can do aqua Zumba as solo, but it is not recommended.
There are various aqua Zumba classes that you can join. Some of the classes can be incorporated, underwater fitness classes. However, others come as a standalone class. In those classes; the instructor is the one who leads giving you various Zumba routines. There are a lot of Zumba movements and some of them will be discussed below.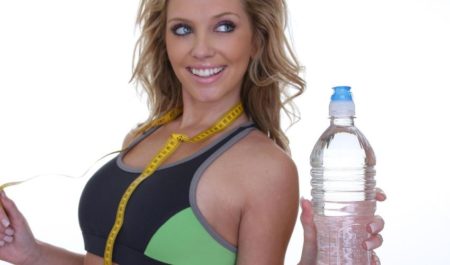 At most, the aqua Zumba pool exercises can last for 45 minutes or more. Prepare yourself to spend those minutes dancing in the water. Therefore, you must drink water to stay hydrated. Having a workout in water is interesting and you can sweat. As such, you have to drink water to keep your body normally hydrated. If you feel dizzy while you are in the pool, you can move out and rest.
Aqua Zumba Routines.
The aqua Zumba routines are similar to the regular Zumba. Therefore, if you love dancing, you will enjoy dancing in the water. However, moves that take place in water are slightly slow compared to the movements that happen on the normal ground without water. Some of the basic routines that you can do in water are as follows;
Cha Cha Swing.
If you love stepping and swinging your hips; you will definitely love this routine. The dance moves in water are a bit slow compared to the regular cha cha. It targets the entire body as you get to swing your hands, hips, and your waist. As such; you can tone and improve your arm muscles.
The cha cha swing is also good in toning your legs core and glutes. You don't need any additional props. However, some people spice up the workout and use dumbbells when they are dancing. The use of dumbbells is good for strengthening the arms and building strong muscles.  More so, you improve the bone and joint healthiness.
Aqua Salsa.
Doing salsa movements in water is another workout that can be done by anyone. It involves soft and slow movements that are ideal for older people. Salsa can be done in a pool of water reaching your arm-pits. You do the leg and arm movements. These movements are good at stretching your body.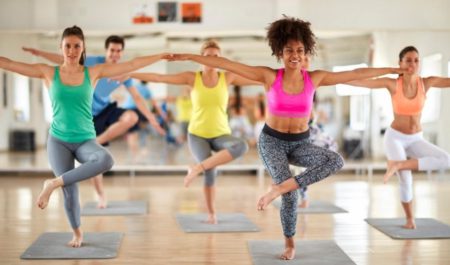 Like other Zumba movements, the salsa dance exercises the whole body. Your shoulders, back, arms, and legs benefit form the movements. Being in the water soothes body pains and you can feel much better after doing the exercise. Additional aqua salsa dance is also good for improving balance.
Aqua Mambo Zumba.
Aqua Mambo is another common and simple routine that can be done by a group of people in a people. You can spice up the movements by adding other workout tools in the pool such as a chair. You can play around with the chair in the pool while you are dancing. It makes it fun and lively. Like other Zumba dance styles; the aqua Mambo is good for improving the physique of the entire body. The aqua Mambo moves strengthen your legs and arms. Your back becomes flexible to move perfectly.
Benefits Of Aqua Zumba.
Increase blood circulation – exercising in water comes with a lot of benefits. It is good for rejuvenating your body as it improves blood circulation. Aqua aerobics stabilizes your blood pressure.
Improves heart health – Water workouts are good for improving cardiovascular health. Your heart rate can improve while doing the water aerobics exercises.
Lowers anxiety symptoms – Being in water gets relaxes your body and mind. The Aqua Zumba is good medicine for lowering anxiety symptoms. Additionally, it is good for destressing
It makes you lower injury pains – Those who are suffering from internal injuries; aqua Zumba is the best workout for their pains. Exercising in water eases tension and pains.
Tone muscles – The aqua Zumba workout is good for engaging the entire body. You can improve the arms and legs muscles while dancing. It is good for shaking off the belly fat. Therefore, you can improve the look of your abs.
Reduces inflammation in joints – Moving your legs in water is good for soothing joints that are aching.
Burns significant calories faster – You can burn more than 300 calories in an hour of aqua Zumba workouts
Improves coordination – Most of the aqua Zumba styles make you move your legs and arms regularly.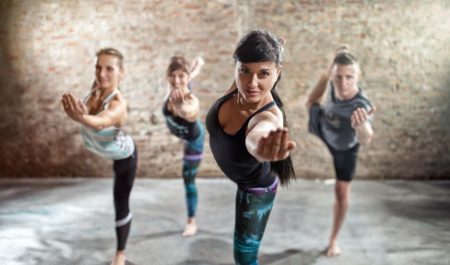 Weight loss – Aqua Zumba is such fun and you might not realize your sweat. As such, you can shed off calories and lose weight significantly. It targets the entire body, therefore, your arms, legs, the belly can benefit as you lose weight.
Tips
Wear proper swimming cloths. If you decide to wear shoes, make sure that your shoes are comfortable and suitable for swimming. However, you can enjoy your pool party dancing barefooted. Your general outfit must be comfortable to allow you to make various movements such as turning and jumping without a hassle.
Make sure you stay hydrated. Exercising in water can dehydrate your body. Try to drink water regularly or after every song. By doing so, you will enjoy the party healthily. You do the aqua Zumba workout with the rest of the body in water. At most, the pool water would be reaching the level of the armpit. Therefore, you must find a good spot that will make you move freely.
Final Thoughts
Aqua Zumba is the dance party in the pool kind of exercise. It is indeed an interesting way of water aerobics exercises. You should consider aqua Zumba class as you search for "water aerobics near me."  It is good if you are swimming for weight loss.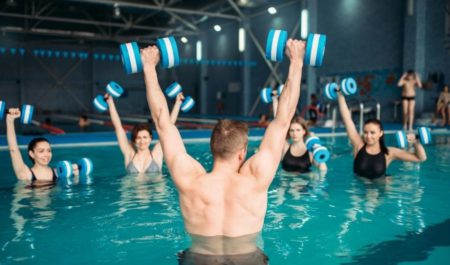 Additionally, the aqua Zumba routines such as Mambo, Salsa, Cha cha, and many others are some of the dances that you will enjoy in the classes. In addition to weight loss, they are good for distressing, reducing joining inflammation, improving heart health, strengthening, and toning your body muscles.
Which Zumba movements do you like doing in the water? What do you benefit from them?