Underarm fat is annoying. However, you should not worry anymore as your question on how to get rid of armpit fat will be answered in the next text. There are various exercise to get rid of armpit fat that can help you to deal with the annoying fat. These exercises include jab cross, triceps press, chest press, swimming, and many other exercises.
Interestingly, these exercises are easy to do. However, you can turn them into high-intensity exercise as you like. Most of the exercises can be combined to have an interesting workout.
7 Ways On How To Get Rid Of Armpit Fat.
1. Jab Cross.
This exercise is largely influenced by boxing. Those with extra flesh under armpits can try this exercise for a change. As you tose and fly around your arms with force; you can eliminate additional flabby skin. If you want to make it a bit intense; you can use dumbbells.
The Jab Cross exercise can be done at home. To do the exercise, you might need dumbbells but you can do the standard one without the dumbbells. You can do it standing with your legs being shoulder-width apart. Make sure that your arms are closer to your chest with elbows bent. Your palms must be facing each other.
Then start jabbing alternating your hands. You can increase the pace and jab quickly. Most importantly, jab as if you are boxing. One hand must at least jab more than 15 times. This exercise targets arms and armpits. Therefore, it can help you shed off fat and tighten the loose skin under the arm.
2. Triceps Press.
The name of the exercise; 'triceps press' speaks for itself. It targets the triceps. Triceps are the upper arm muscles. If they start sagging due to fat you can tone them by doing triceps press exercise.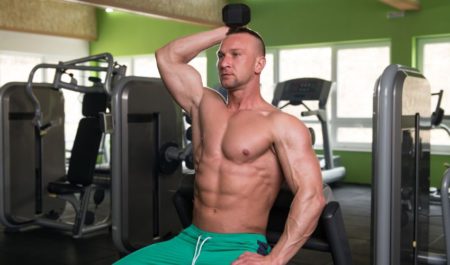 To do the exercise, you need dumbbells and a chair. But if you don't have dumbbells, you can grab your water bottles and get going. Firstly get seated and lift your arms to be above your head. Your palms must be facing each other.
Then, when your arms are up; bring them down on your back of your head to the shoulder. Afterward, repeat that move for about 15 reps or more. You may feel your underarm skin tightening. This is an easy exercise that does not take much of your time to do. In addition, the exercise does not only improve the arm triceps but it improves your shoulders and back.
3. Chest Press.
The chest press exercise is one of the best answers to "how to get rid of armpit fat" question. It targets your upper arm muscles. Therefore, if you have that annoying underarm fat, chest press exercise can burn calories, build muscles, burn fat and strengthen your entire arm.
Therefore, doing this exercise is worth your time if you want to eliminate the underarm fat. To do the chest press exercise, you will need a bench to lie on and dumbbell to give your arms pressure and force. If you don't have a bench, you can always do the exercise lying down on the floor. But make sure you use the correct size of dumbbells that can make you do several reps without a hustle.
You can use dumbbells that have more weight to burn the underarm fat effectively. Holding dumbbells, lie down on your back. Start raising your arms up leaving the upper arm lying flat on the floor. The upper arm must be up to form a 90-degree corner. Then lift the arms up higher, making show that they are straight in front of you.  Lower your hands to that 90-degree starting spot. Note that you can do 15 reps or more.
4. Swimming Exercise: Water Arm Lift.
There are many swimming exercises that you can do to shed off underarm fat. Most exercises that you can do under normal background can be done in water.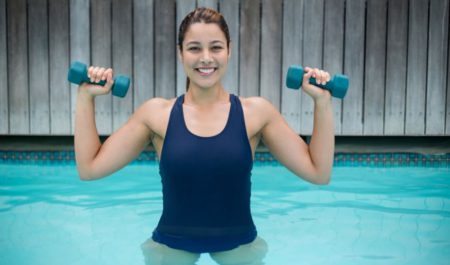 For instance, you can do arm lifts with dumbbells, lateral arm lifts, and many other exercises. However, if you do have a pool, you can always mimic these exercises out of water. To do the water arm lift, you will need to be in the water. In addition to that, you will need dumbbells. Firstly, begin by standing comfortably in the water. The water must reach your shoulders.
Your dumbbells must be properly held with your arms on your side and palms facing upwards. Then lift your forearms to reach on top of the water. Make sure your elbows are closer to the torso. Then put back your arms to the starting position. You can do at least 15 reps or more.  This exercise is good for toning your arm muscles.
5. Bench Dip.
This is an interesting exercise that takes advantage of your body weight to shape your arms. As such, it is good for strengthening triceps muscles. To do this exercise, you will need a sturdy bench. Make sure that you place your bench on a stable environment so as to avoid accidents and injuries.
Start by sitting down on a bench with your hands placed by your side on the bench. Make sure that your palm and fingers grip the bench. Then move your butt from the bench and lower your body down. To move swiftly, bend your knees and arms. Then bring your body up to the starting position. You can do 20 reps of 3 sets or more.
6. Downward Facing Dog.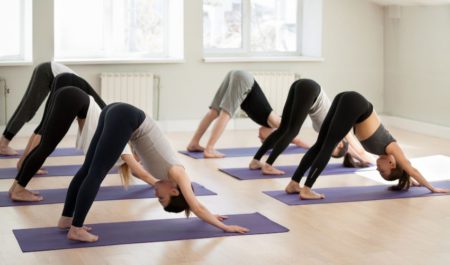 If you want to fight fat in your arms, you should try the downward facing dog exercise. In addition, the exercise is also good for strengthening your arms, shoulders, back and calves. More so, you don't need a lot of props. You may need a mat but you can also do without it. To do the exercise, start by kneeling down on the floor. Then put your hands down in front of your with palms facing down.
Move your up to balance with your hands and feet. Straighten your legs to balance with toes on the floor. Your head must be in between your arms so that your body gives a triangle shape. Then bring your body down above the floor. Noteworthy, your arms and legs must remain straight. Do not bend them as you move. You can do 20 reps of 3 sets.
7. Push-Ups.
This is one of the easy workouts but it can help you to get rid of armpit fat. You can strengthen your arms and tone your upper arm by doing push-ups. In addition, you do not need any props to do the exercise. The exercise can be done indoors or outdoors. To do the standard push-ups, you can start by lying on the floor. Then lift your body using your toes and hands to balance your body.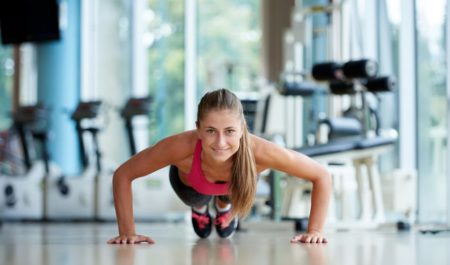 After that, you can lower your body to the start position. You can do many reps as you can.
Takeaway
As you ask around on how to get rid of armpit fat, remember that exercising is ideal. But you need to do the right exercises that will focus on your upper arms, triceps, and other arm muscles. Such exercises include Jab Cross, push-ups, chest press, water arm lift, and many others.
In addition, these exercises can contribute to weight loss thereby shedding off arm fat. You can do these exercises anytime and you can mix them to have a complete workout that will have you attain your goals.
Which of the above exercises have you used to get rid of armpit fat? Share your experiences.