Doing CrossFit workouts might be largely associated with younger people below the age of 50. However, CrossFit for women over 50 is alive. The seniors can do the CrossFit workouts like any other person. This is because CrossFit can be done by anyone regardless of age and gender. In the next paragraphs, you will get a list of the best CrossFit workouts that are good for women over the age of 50.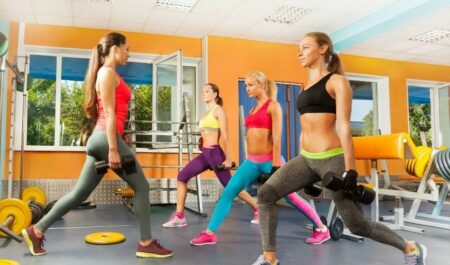 The workouts and exercises cater to CrossFit beginners as well as experienced seniors. Additionally, there are several CrossFit tips for women that will make them enjoy CrossFit workouts.
Beginners Crossfit For Women Over 50.
CrossFit involves high intensity interval training which is abbreviated as HIIT. it might look like the over 50s cannot subscribe to CrossFit workouts but almost anyone regardless of age can do the CrossFit workouts.
The CrossFit promotes strength so that you can do day to day moves without facing any challenges. More so, the CrossFit lifestyle includes safety training and a healthy diet.
Anyone from any fitness level can do CrossFit exercises. That includes seniors who are over the age of 50. There are different workouts under CrossFit that can benefit women over the age of 50.
For instance, they need to do CrossFit arm workout, CrossFit chest workouts, CrossFit strength programs, and many others. The interesting thing is that older people who do not want to exercise in gym facilities can always do the CrossFit workout at home.
However, doing the exercises may depend on various issues such as level of fitness. For beginners, there are CrossFit workouts that they may not be able to do due to the level of fitness and age factors.
Below are some CrossFit exercises that can be done by beginners;
Medicine ball slams
Rowing
Running
Goblet squats
Situps
Pushups
Box jump
Crossfit Outfits For Women Over 50.
Training workouts cannot be like your office wear. The CrossFit workout should at least allow you to make any movement freely.
As much it may be fashionable, the outfit must at least make you do exercise moves without any disturbances.
Some seniors may consider how they look like when wearing a certain outfit. Such things contribute to your confidence.
By the way, as much as you may need to be focusing on training, your clothing also matters. Your clothing can motivate you or make you feel the way round. Below are some CrossFit clothing that you may consider having;
Sports Bra.
You may need a bra that will support you when you are exercising. The bra should be comfortable and at least have some sort of moisture management.
You will definitely sweat when training, so such a bra can be helpful. Sweat can make you uncomfy when training. As such, make sure that you chose your sports bra carefully. But not every woman wants to wear a bra.
T-shirt.
You will need a T-shirt on top of a bra, however, some can do workouts wearing a sports bra without a t-shirt. There are different types of t-shirts that you can choose from. If you are concerned about having a top, you can choose from a wide range of t-shirts.
There are different types of t-shirts. You can go for a long-sleeved t-shirt if you want to cover your arms when running outside on a sunny day.
But the t-shirt should make you feel comfortable when exercising, and it must not distract you. There are also short-sleeved t-shirts, that are good for seniors.
Make sure that you choose the t-shirt of your choice wisely that meets your training needs. You can always wear a vest if you don't mind showing off some skin.
Pants.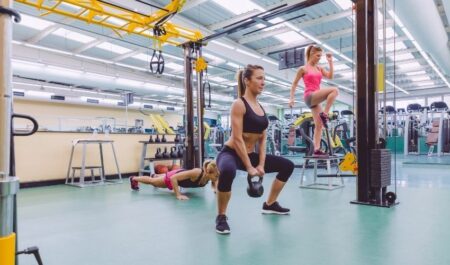 There are also different types of pants. Being a senior does not mean you have to be limited in terms of clothing. You should wear something that will not affect your moves negatively. Seniors can wear leggings or other types of pants. Shorts are also available for seniors. And they make it easy to make movements.
Shoes.
Your workout shoes are also important, and you should make sure you get shoes that match your health condition.
Some seniors may suffer from foot pain, as such, they should consider that when they buy training shoes. Get shoes with excellent traction so that you can use them anywhere.
The heel cushion must also be comfortable. And most importantly, make sure that you get the right shoe size.
Is Crossfit Good For Women Over 50 Or Bad?
Some people are of the idea that CrossFit is for a certain age group. More so, CrossFit is associated with difficult workouts. As such, some people think that CrossFit workouts are not ideal for seniors. However, CrossFit workouts are there to promote fitness.
As such, anyone regardless of age can do CrossFit. Therefore,; CrossFit workouts are good for women over 50 years of age. Why is CrossFit good for women over the age of 50? According to the official website of CrossFit; the program is there to promote fitness, and more.
And the seniors also deserve to be fit. And there are also beginner-friendly CrossFit workouts that can be done by seniors without any challenges.
More so, CrossFit challenges seniors to follow a healthy diet that is in line with the CrossFit program. As such, it can be said that CrossFit is good for women over the age of 50.
Crossfit Workouts For Women.
Not that CrossFit workouts are gendered, but there are different workouts that might be preferred by women.
Such workouts might be benefiting women, hence the love for them. Below are various CrossFit workouts that are might be highly preferred by women. But men can also do those workouts.
Kick your butt – This is one of the high intensity workouts that may leave an old lady knocked out. But it comes with a lot of benefits. It improves cardiovascular health, strength.
And it can melt the tummy fat and help you to lose significant kilos. The workout includes doing sit-ups, squats, push-ups, pull-ups. And each exercise must be repeated 100 times.
Slimmer – if you want to be serious with weight management, you can consider doing this workout.
It consists of doing 100 push-ups and 100 sit-ups. You will not only lose weight, but you will also strengthen your upper body muscles with the push-ups.
The Cardio – this is one of the workouts that can improve your cardiovascular health. The exercise is so easy and fun. It is all about running miles. Almost everyone can run.
Kettlebell it – this is one of the workouts that improve strength. Using weight is good for seniors as it helps them to be able to do day to day activities of carrying things from one place to another.
The "kettle it" involves using a kettlebell. And you do exercises such as kettlebell swing and goblet squats.
The cycle – this is another workout that can improve cardiovascular healthiness. It consists of fun exercises. Some exercises include cycling, running, and push-ups.
Besides these few workouts mentioned above, there are a lot of CrossFit workouts that can be done by seniors. The seniors must choose workouts according to their training plan and goals.
Best Tips For Doing Crossfit Over 50.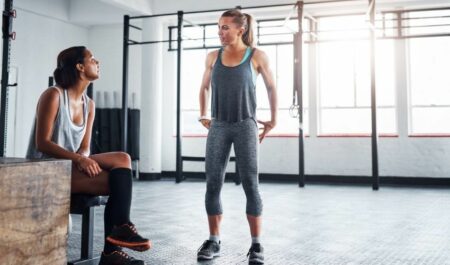 As the seniors start their CrossFit workouts, there are several tips that can help them to stay in the game. Below are the tips that can make them enjoy the CrossFit workouts;
Start gently
Start with bodyweights exercises
Choose the right exercises
Stretch and warm up
Take your time to learn
Rest to recover
Diet according to your training and fitness goals
Have an experienced coach
Is Crossfit Risky For The Over 50 OR Not?
Exercising can be risky if you are not too sure about the moves. As such, it cannot be indeed down to CrossFit that it is risky for over 50s.
Proper training can make you enjoy your exercises without experiencing injuries. But of course, experienced trainers can also experience some injuries.
The CrossFit can be risky to over 50s if they do exercises in the wrong form. Doing exercises under the guidance of a coach may save you from injures.
In addition to that, it is also important to do the warm-up and stretch exercises before doing any CrossFit workout. This prepares your body for injury risks.
What Are The Reasons, The Crossfit Best Suit For Women Over 50?
Doing high intensity interval exercises of CrossFit comes with various benefits to women over 50 years of age. CrossFit strength programs are good at keeping seniors fit and stronger.
And that improves their general health. CrossFit chest workouts, CrossFit arm workouts, and many others; improve upper body strength. And there are a lot of CrossFit workouts that can benefit seniors.
Conclusion
Being over 50 does not stop you from doing high intensity interval training. CrossFit involves doing HIIT workouts.
As such, CrossFit for women over 50 might sound sour to others, but it is healthy for seniors. It keeps them fit to do their day-to-day activities
There are several CrossFit workouts that might be done by women over 50. Interestingly, the CrossFit workouts are not out of the world, but they are doable.
For instance, women can do exercises such as running, push-ups, sit-ups, squats, kettlebell swings, and many others.
As such, CrossFit is safe for women over 50 years of age. If they decide to do CrossFit Tabata, they can always do the CrossFit Tabata workouts at home.
Which CrossFit workouts would you recommend for women over the age of 50? Let's share in the comments box below.