Gymnastics classes for kids need to be supervised by an adult. If you decide to have gymnastics lessons for kids at home, make sure that you are always there. Monitoring kids during the gymnastics classes will lessen injuries and if there are injuries you can attend them immediately. Whether you have home gymnastics equipment for kids or not, this article will share more tips on how to gymnastics training for kids at home.
You will get gymnastics moves for kids and beginners. Many of the videos, you can get in YouTube will guide you on how to do gymnastics at home easily. You can find out some of the links in this article and they will help you to train your kids.
Gymnastics For Kids At Home.
Gymnastics is unique and also a dangerous sport. As such, gymnastics for kids need to be conducted with caution. Gymnastics classes for kids are mostly done in designated areas. Such areas are safe for gymnastics movements. However, if you decide to have gymnastics for kids at home, hire a coach if funds permit to make sure that your kid does things by the book. If you can't afford a coach, make sure that you are always there when your kid's train.
As a parent or guardian, you can act as a spotter to assist kids to do some tricky movements at home.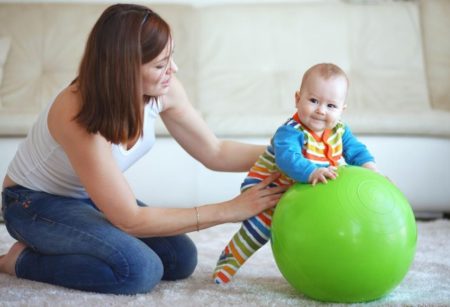 In addition, you can buy gymnastics equipment depending on the moves that your child needs to do. However, there are movements that can be done without gymnastics equipment. However, the digital era has almost everything you need online. You can use online videos to teach your child gymnastics moves. There are online classes and your child can get a virtual coach to do gymnastics at home.
In addition to that, you can get free gymnastics classes for kids online. Just like that, your kid/s can safely have their gymnastics lessons at home. Having your kids do gymnastics lessons at home can make them stay in line. More so, it is also good for boosting confidence.
Kids Gymnastics Classes.
Children can join gymnastic classes as early as 1 year old. Almost every child can join gymnastics lessons for kids.  After all, kids enjoy physical playing. So doing gymnastics will be fun.  Therefore, the most of the gymnastics classes for kids are full of fun moves.
The beginner class focuses more on having fun than doing competitive stuff.  For instance, the gymnastic beginner class for kids do fun moves such as headstands, backward roll, forward roll, cartwheel, and many others. Some of these moves are based on kid's games and music. In addition, kids learn the gymnastics basics in beginner classes.  Besides, the beginner movements, they learn how to warm -up. More so, they learn about body awareness, body balance and flexibility, and many other basic things.
When they are fully furnished with gymnastic basics, they then start classes. Classes can be separated by age groups, gender or types of moves. The classes depend on an institution or the coach. At most the age group classes can be of toddlers who are between 1 and 3 years of age, kids between 3 and 5 years, children between 6 and 12 years old, and the teenage class.
When it comes to gender classes, most girls do gymnastics movements which are different from those being done by boys. In addition, they can also use different training tools.  For instance, girls can do floor exercises, beams, and vaults. Then the boys can use rings, horizontal bars, and many other apparatus.
Gymnastics For Kids Online.
During this worldwide pandemic, social distancing and staying at home is the order of the day. Therefore, attending gymnastic classes can be problematic. However, it doesn't mean that you have to stop doing gymnastic training. As discussed above, you can continue having your gymnastics class at home. 
You can join virtual classes online and make your child continue doing gymnastics at home.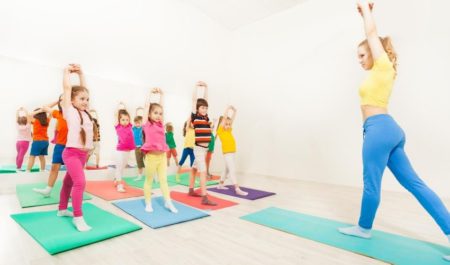 You can get instructors online and make your child experience the training at home. More so, some institutions provide online videos. With the videos, you can train at any time of the day. In terms of the costs, you can access gymnastics classes for free. However, some classes come with a price tag. As such, you can join the class that you are comfortable with. Some free classes come with limited training sessions.
When it comes to doing gymnastics at home, you must make sure that your child is safe. Doing gymnastic movements on the plain floor such as the tiled floor is not advisable. Therefore, you may need to buy a mat or a yoga mat. Make sure that you are always there to assist your child.
The parent or guardian must act as a stopper when the child is doing online gymnastics classes. When it comes to gymnastic equipment, your kid can use what is available at homes such as the broom, towel, cushion, old mattress, and more.
In addition, if you are doing online classes, you might need a tv set, projector, laptop, or any other gadget that you might use to watch the online classes. You may also need a stable internet connection if you watching live stream training. Therefore, make use of technology and let your child enjoy the gymnastic classes online at the comfort of her home.
Gymnastics For Beginners.
Kids who are new to gymnastics go through the basic movements. The basics are an introduction and the foundation to gymnastics movements. In the beginning, the moves are simple and they advance as you get used to the sports. Below are some of the beginners' moves that can be done at home by kids.
Forward Roll – This is a floor exercise. The whole body must be rotated on the floor moving forward.
Handstand – As a beginner, you should try this move with the use of the wall. Use the wall to balance your body, you can ask a spotter to help you balance. Then when your body is in form, you start doing it on your own.
Cartwheel – with this move, you have to imagine your child turning like the spokes on a wheel. This will help your child to master the basic movements.
Bridge – Make sure your kid works on upper body strength. That can make the child do the bridge move.
Backward roll – make sure that you roll your body on a soft mat to avoid injuries. Start by squatting with your head tucked in your chest. Push your legs backward to roll your body.
Splits –  Keep on practicing splits, by splitting your legs slowly until you reach the ground. It may not be achieved in one day. If it hurts, stop.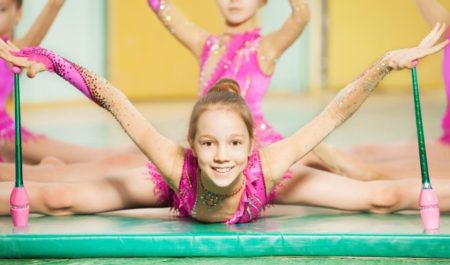 Gymnastics Videos For Beginners.
There are a lot of videos online for gymnastics. As such, when you are browsing, make sure that you filter and use videos that are suitable for your kid. If you are using an online institution or instructor for gymnastics, you are likely to get graded videos. That is the videos will be packaged to meet your kids' needs, as such you don't have to worry about filtering them.
Below are some of the videos that can teach you how to learn gymnastics basics at home. For beginners, you can check out these basics moves. If you want to follow a certain institution that is kids friendly, you can check this and this. For virtual classes, check these and buy online DVD from Amazon.
How To Do Gymnastics For Beginners At Home Level 1.
There are various requirements for different levels of gymnastics. You have to master moves for a certain level before moving to the next level. Below are the Level 1 requirements.
Floor Requirements.
In Level 1, the gymnasts have to do floor routines with various moves and skills. Your floor routine must at least have the following moves;
Forward roll
Cartwheel
Split jump
Handstand
Backward roll
Vault Requirements.
You must be able to do the stretch jump, kick to handstand move then fall to flat back.
Beam Requirements.
To qualify for the next stage, the gymnast must be able to do the beam routine of various moves and skills. Some of the moves include;
Lever
Jump to front support mount
Cartwheel to ¾ handstand dismount
Arabesque
Stretch jump
Bars Requirements.
As a gymnast, you should be able to do the following moves properly without a hassle;
Cast
Back hip circle
Pullover
Underwing dismount
Gymnastics Moves For Kids.
Coaching kids to do gymnastics can be interesting. Kids love playing and exploring. As such, most of the moves for kids revolve around music and game movements. Below are some of the gymnastics moves for kids. They are similar to the beginner moves. However, they will be explained in detail
Splits.
How flexible are you?
You have to practice this move until you are perfect. It's rare to do it properly in the first time. As such, start by splitting your legs apart. Let your legs slide apart until you reach the ground. However, practice is important. When you feel the pain along the way, stop. You can support your split using your hands.
Handstands.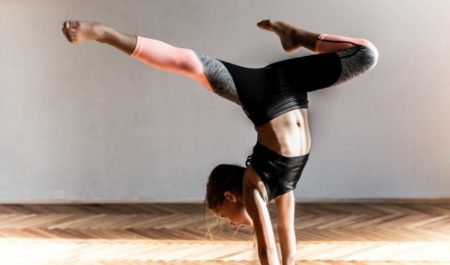 You have to make sure that your body is upside down standing with your hands. Make sure that your body and legs are straight.
Backward Roll.
To do this move, start by squatting on your heels. You can sit on the floor or your mat then roll backward.
Forward Roll.
Make sure that you do this move on soft ground to avoid injuries. Squat on the floor with the hands planted apart on the floor. The chin must be tucked. Then start your roll by straightening your legs and pushing them to your back. The final position must be a squat on the floor.
Final Thoughts
Gymnastics for kids are interesting and fun. You might be wondering whether it's possible for your child to do those wow moves at home. It is possible for your child to start from scratch and master the gymnastics moves at home. With the use of virtual gymnastics classes and online videos, your child can do gymnastics classes at home.
However, make sure that you are always there to monitor your child and to be a spotter.
Which gymnastics moves can be easily done by children at home? Share your experiences below.