It is no denying that both cocoa butter and shea butter are popular in the market. Both of these ingredients help to soothe many skin issues. Hence, it may generate confusion about which one a person should choose. However, cocoa butter vs shea butter can help to find it out. Both cocoa butter and shea butter are used in many creams and skincare lotions. However, any one of them is used in one product. In simple words, shea butter and cocoa butter are not the same. Nevertheless, these two ingredients share many similar properties.
For instance, these two variations contain almost the same useful antioxidants and fatty acids. However, the proportions are different. These two types of butter come with individual pros and cons. For instance, the shea butter quality can be based on its source.
On the other hand, cocoa butter can clog the pores due to its oily nature. It is time to know the differences between cocoa butter and shea butter in detail.
Cocoa beans are the source of cocoa butter. On the other hand, the shea tree is the origin of shea butter. Cocoa butter emanates a strong fragrance of chocolate. Moreover, it has a darker color compared to shea butter. On the other hand, shea butter is ivory and comes with a nutty fragrance.
Cocoa butter comes with around five-year shelf life. Hence, it is a costly ingredient. On the contrary, shea butter features around one to two years of shelf life. Shea butter loses its efficacy with time as compared to cocoa butter. It is of no use to store this butter in the refrigerator.
Nature of Cocoa Butter And Shea Butter
Is cocoa butter vegan? Is shea butter plant-based?
The first answer is cocoa butter is a perfect option for vegans. It does not contain any animal-derived ingredients. That means vegans do not need to worry about dairy, honey, eggs, etc during its use.
Shea butter is also a vegan-friendly ingredient. It is fully natural and 100% plant-based. That means there is no concept of any animal-based products in shea butter. However, vegans should check the label of a product before using it. Maybe the product has any animal-derived ingredient.
Skin Protection
Cocoa Butter:
Cocoa butter contains rich antioxidants. That is how this vegan butter can balance out free radicals produced by cell metabolism. Thus, cocoa butter can combat wrinkles. It can also protect users from damaged skin cells.
Dry skin sufferers can make use of unrefined cocoa butter. 100% pure cocoa butter stick can make an ideal moisturizer option for dry skin. It can also prevent and relieve stretch marks. High-quality cocoa butter facial hair remover is rich in vitamin E. It can remove unpleasant facial hair within four minutes.
Shea Butter:
Shea butter helps to soothe lots of skin problems. Its contribution ranges from dry skin remedy to dermatological problem-reliever. Such dermatological issues include eczema, wrinkles, itching, dryness, blemishes, etc. When it comes to shea butter for face, it can also contribute as a shaving cream. As a result, it lowers razor burns and keeps up the even tone of the user's skin.
Shea butter comes with the goodness of essential vitamins, such as A, E, and K. Thus, this vegan butter supports the users to keep up clear and healthy skin. Moreover, shea butter also contains Omega-3 fatty acids. It acts as a skin protector and regenerator. That is how shea butter can help to soothe charred and uneven skin.
Shea butter can be a better option to cure stretch marks, scars, and acne. It is because cocoa butter can clog the skin pores of the user. Moreover, shea butter is not oily and so it can help to lower acne and stretch marks. Raw shea butter helps to treat skin rashes, frostbites, acne, burns, scars, and so on.
Palmers Cocoa Butter Pregnancy Reviews
Palmers Cocoa Butter Formula offers great value for the investment. It helps to maintain proper hydration in the skin. Moreover, its soothing chocolate smell is awe-inspiring. The product is rich in pure cocoa butter, several rich emollients, and vitamin E. Palmers Cocoa Butter Formula adds the correct amount of moisture to the skin. As a result, the skin becomes smooth and glossy.
This massage lotion combats the dryness imparted by stretched skin throughout pregnancy. Furthermore, Palmers Cocoa Butter Formula also cures stretch marks developed by weight loss.
Mederma Cocoa Butter For Acne Scars
Mederma Advanced Scar Gel helps to lower the severity of new and old scars. Moreover, this product affects the texture, color, and appearance of scars. It is among the budget-friendly products. It can treat different kinds of scars, such as acne scars, scars from different injuries, surgery scars, and so on.
Is cocoa butter good for acne?
Cocoa butter does not contribute to disappearing acne scars. However, cocoa butter can help to rejuvenate flaky, dry skin imparted by acne scars. Moreover, cocoa butter can make the skin smooth and pulpy.
Shea Butter Acne Prone Skin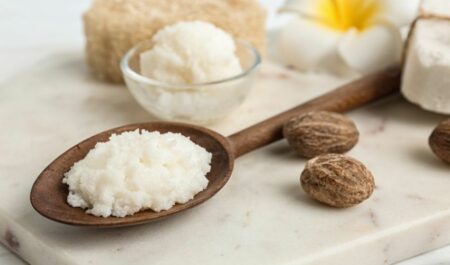 Shea butter may help to keep acne at bay. This butter contains a rich amount of different fatty acids. It helps to clear skin by preventing excess sebum. Shea butter moisturizer can rejuvenate moisture to the skin of the users.
Moreover, it seals the moisture to the epidermis level of the skin. Thus, it prevents drying out of the skin. As a result, shea butter restores the natural proportion of oils in the skin. That is how it can prevent acne before its appearance.
Shea Butter Hair Recipe
A good shea butter hair recipe can combine shea butter with many ingredients. It includes castor oil and coconut oil. This recipe contributes to hair growth. However, a proper regimen with this hair recipe is significant. One of the best parts of this DIY mix is its suitability with various hair types. One just needs to adjust the ingredients well. This mixture also contains jojoba oil.
Shea Butter Allergic Reaction
Some people suffer from nut allergies. Hence, it is not surprising that shea butter can develop allergic reactions. However, no report is there about its allergic reaction. This vegan butter is usually believed to be a safe and beneficial moisturizer. It can combat inflammation and prevent aging signs.
Which shea butter should you choose?
Unrefined or refined? It depends on one's preference and requirements. Refined shea butter offers moisturization. Nevertheless, the skin-calming advantages are not the same as the unrefined version.
Does Shea Butter Lighten The Skin
Shea butter comes with the goodness of vitamin E. Hence, it can make an ideal option as a hyperpigmentation remover. As a result, the user can expect to restore even skin tone. Moreover, shea butter acts as a brilliant skin lightener- thanks to vitamin E. This vitamin also revitalizes skin cells and contributes to skin recovery from hyperpigmentation.
Cocoa Butter vs Shea Butter for
For Stretch Marks
Which option is better to cure stretch marks?
In short, the answer is shea butter. Cocoa butter is not a good choice in this regard because it can clog skin pores. On the other hand, shea butter is not sticky to the skin. Thus, it can help to lessen acne and stretch marks.
For Dark Spots
Shea butter is an excellent ingredient for the skin. Unprocessed shea butter can combat skin problems developed by acne. It can also treat discolorations, blemishes, dark spots, etc. However, it does not clog skin pores like cocoa butter.
Can cocoa butter remove dark spots? Cocoa butter is rich in CMP that means cocoa mass polyphenol. That is how it can contribute to relieving rashes and dermatitis. A proper regimen with cocoa butter helps to prevent the appearance of stretch marks. Moreover, it can also lighten such marks. Cocoa butter can lessen dark marks, such as acne spots.
Shea Butter vs Cocoa Butter For Lip Balm
Shea butter works very well for cracked and dry lips, thanks to its healing property. This butter is a storehouse of antioxidants and fatty acids. That is how it can cure dry lips and restore smoothness and softness. It can hydrate and nourish the lips as well. Cocoa butter works as an emollient to the skin. It is rich in natural antioxidants. Cocoa butter creates a hydrating, protecting shield to lips. Thus, it can safeguard lips from indoor heat and severe temperatures.
Conclusion
Now, you are well familiar with cocoa butter vs shea butter. In short, shea butter comes with more advantages than cocoa butter. However, a person can go with personal preference. Some aspects can help people to choose the most suitable option for them.
For example:
A person is suffering from acne-prone skin and looking for a face product. Then, shea butter products make an ideal choice, not cocoa butter. It is because cocoa butter tends to clog skin pores. Hence, acne sufferers must stay away from cocoa butter. Otherwise, it could make acne issues severer.
If a person has normal skin and is not prone to acne, cocoa butter works fine. In that case, cocoa butter would not clog pores and acne. When it comes to a product with a soothing fragrance, cocoa butter can make a perfect option.
Do you have anything to share about cocoa butter or shea butter? Don't forget to comment.