Biking for weight loss is something that many people do. Cycling is a wonderful recreational sport, but if you want to lose weight while doing so, you must plan your exercise differently than you would if you were simply going for a leisurely ride with a buddy. We are going to explore about riding a bike, is useful for weight loss or not.
Make use of the recommendations below to get the finest bike for weight reduction and to correctly set up your workout so that you can start seeing results. While exercising, you may also use a calories-burnt calculator to get an estimate of how many calories you've burned.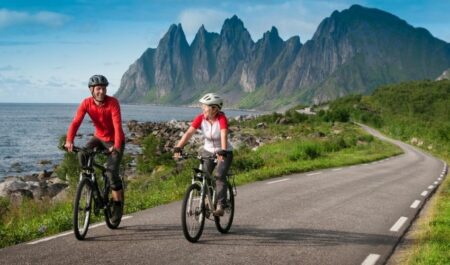 How Far Should I Go On My Bike?
When it comes to losing weight when riding, the length (the amount of time spent pedaling) is more important than the actual distance traveled. To put it another way, you don't have to bike the full Tour de France circuit in order to lose a few pounds. Relieved? Good. But don't forget to keep an eye on the odometer.
If you are new to exercising, you may begin your riding training program with a simple test to see how you respond to it. While biking for 30 minutes, keep track of your distance traveled using your odometer (or a GPS watch or smartphone application).
Make a note of the number in your exercise notebook and set a goal for yourself to reduce the amount of time it takes you to ride the same distance and route in the future. Your fitness level will increase as time goes on, and you will be able to record more miles in less time while burning more calories in the process.
You can arrange longer rides over the week as you get more comfortable spending more time in the saddle. Do three cycling exercises each week, one short ride (30 minutes), one moderate-distance cycle (45 minutes), and one long tour (60 to 120 minutes) per week if you want to maximize your results.
How Fast Should I Ride My Bike?
If losing weight is your primary aim, intensity is more important than speed when exercising. A ride with a higher intensity will burn more calories than a one with a lower intensity. 1 When riding a bike, the type of bike you use and the path you pick will have an impact on both your intensity (how hard you work) and speed (how fast you travel).
Consider the following scenario: If you're traveling at 12 miles per hour on a hefty mountain bike over muddy off-road paths, you'll most likely have to exert considerable effort. However, if you are riding a road bike down a hill, you may achieve that speed with little or no work at all.
What's your best bet? Become familiar with the use of a heart rate monitor. The gadget delivers a precise measurement of how hard you are working at any given moment. For the majority of your rides, keep your heart rate between 70 and 75 percent of your maximum.
Where Should I Go From Here?
As a result of its effect on both time and intensity, the route you pick might have a significant impact on how many calories you burn throughout your workout. Choose a track that will allow you to ride continuously without stopping too much at stoplights or intersections in order to achieve the greatest results. Your heart rate will drop as a result of these small interruptions, which will consume too much of your training time and reduce the calorie-burning potential of your ride.
Many cities have designated continuous bike routes that are open to the public. When you are just starting out, it is preferable to choose one of these safe routes rather than riding on the highway. If you don't have access to a bike path, it can be worth your time to go to a site where a lengthy stretch of peaceful road is accessible to use as a substitute.
The Most Effective Bike For Weight Loss.
The bike that will help you lose weight the most is the one that you will ride on a consistent basis. It is critical that you experiment with several styles until you discover one that works for you.
Bike For The Road.
Some bike riders choose a road bike with narrow tires and a sleeker frame, while others prefer a mountain bike. When you ride quickly on a road bike, you put less effort into it since it is lighter.
Some riders, however, report feeling unsteady on this type of bike. When riding a road bike, you must maintain a small forward lean throughout the ride. If you have back problems or are concerned about your safety, this may not be the best bike choice for you.
Bike Types Include Cruisers, Mountain Bikes, And Cross Bikes.
Depending on your preferences, you may choose the comfort and easiness of a cruiser or a mountain bike with hefty, thick tires. These bicycles are often equipped with some form of suspension and cushioning to make riding more pleasant.
In addition, when riding this type of bike, you are more likely to keep an upright posture than when riding another design. Additionally, because the bigger tires give more stability, riders typically feel safer on these bikes, which is especially true for those who are new to the sport.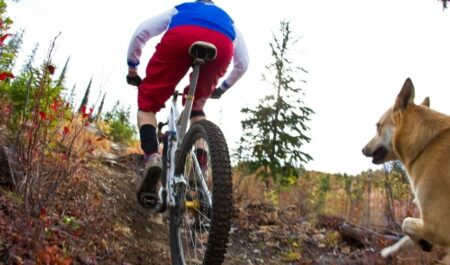 Bike That Runs On Electricity.
If you are new to riding or if you plan to ride your bike for a long daily commute, an electric bike (also known as an e-bike) may be the best option for you to consider. Trek, for example, makes bicycles that you may ride just like a regular bike, but that can provide a burst of assistance when you need it.
Trek's Super Commuter, for example, offers a comfortable upright ride with the flexibility of selecting from eight different speeds. If you encounter a hill or want a break from the arduous pedaling, you may activate the Bosch pedal-assist system, which will support you in maintaining speeds of up to 27 miles per hour (45 kilometers per hour).
Bike With A Recumbent Seat.
When exercising at the gym, some people choose to ride recumbent bikes because they prefer the reclined body posture over the upright body position that is typical of normal cycles. Some riders, on the other hand, choose to ride a recumbent bike for their outside rides.
Bikes with lower seat heights and larger saddles are more accommodating for riders who suffer from back pain. Recumbent bikes, on the other hand, might be more difficult (and perhaps less safe) to ride in traffic due of their low profile. Therefore, before purchasing this type of bicycle, think about where you intend to ride it.
Tips For Choosing The Most Appropriate Bike For Weight Loss.
When you purchase at a bike store that specializes in bicycles, you can choose the finest bike for your physique and cycling style.
When they have measured your body, they will offer suggestions or modifications to the seat height as well as the handlebar height and breadth, top tube length, and saddle size to ensure that you are riding in the most comfortable position possible.
Gear That Is Absolutely Necessary.
With a nice bike in hand and an understanding of how to plan your cycling exercise, you'll want to invest in a few items of equipment to keep you comfortable and safe while out riding on your bike.
Helmet.
Purchase it and be sure to wear it all of the time. Visit your local bike shop to ensure that your bike is correctly suited. You will learn how to properly wear your helmet in order to be protected in the case of an accident from a cycling specialist.
Identification.
This is just another item that you hope you will never have to use in the future. The presence of an identification document, such as a driver's license or a Road ID bracelet, will aid first responders in their efforts to save lives if an accident occurs.
Cellphone.
In addition, when your physical fitness level improves, you'll find yourself venturing farther away from home. It is possible to contact for assistance if your bike breaks down or the weather gets hazardous when riding using a cell phone. Aside from that, you may take benefit of handy cycling applications.
Bottle Of Water.
When you do a good cycling exercise, you will become dehydrated. Keep your water bottle filled at all times and remember to sip it throughout the day.
Glasses.
Flying debris such as pebbles, glass, and bugs can cause damage to your eyes if they are not protected by cycling glasses. If possible, choose a pair with a rubber nose piece to prevent them from sliding down your face while you sweat.
Accessory Options Are Available.
Cycling Shorts Are A Must-Have.
Some bikers choose to dress in shorts, capris, or leggings that have been developed expressly for riding a bike rather than regular clothing. In addition, the shorts are constructed with a chamois or pad, which helps to reduce friction between your body and the saddle. Most shorts also feature a waistband that is higher in the back and lower in the front, which helps to make riding in a forward-tilted position more comfortable for the cyclist. Combining the shorts with a cycling-specific shirt will help you maintain a more streamlined riding stance.
Pack For The Saddle.
This compact bag connects to your seat post and zips shut to keep your mobile phone, identification, and other things safe while you're on the go.
Heart rate monitor: This high-tech instrument allows you to track your level of exertion. Many activity trackers also include an exercise heart rate monitor, which may be used to keep track of how hard you are working throughout your workout.
Bike Computer, To Be Precise.
When attached to your handlebars, a bike computer may track your speed, distance, tempo, cadence, and a variety of other metrics. It is not required, but it is entertaining to have.
Trainer Designed For Use Inside.
The use of an indoor bike trainer is really beneficial if you are serious about losing weight through bicycling. A trainer is often a collapsible apparatus that allows you to ride your outside bike indoors while remaining in the comfort of your home. It's especially useful on wet or cold days.
Cycling Shoes Are Recommended.
It is not required to use cycling-specific shoes for weight-loss activities, although they can make your ride more pleasant. Cycling shoes that clip into the pedals are worn by serious bikers. Although the clips are not required, you may discover that a rigid shoe (cycling or otherwise) performs better throughout your workout than a flexible shoe. The rigidity aids in the passage of pressure from the pedal to your entire foot, resulting in a more effective and pleasant pedal stroke.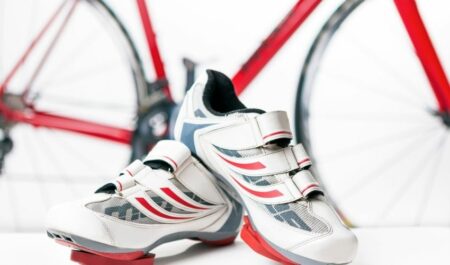 Biking Is A Safe And Effective Mode Of Transportation.
Keep these safety precautions and workouts in mind as you prepare for your bike rides this summer.
Hills Should Be Included.
By including some hills in your route, you may strengthen the strength in your lower body, raise your aerobic capacity, and increase your calorie-burning potential. You may even pick a hill with a significant gradient and cycle up and down the hill numerous times as a single exercise session.
Increase The Number Of Speed Intervals.
Having established a consistent riding schedule, you may begin to test yourself with increased pace. For many minutes, increase your speed by 1 to 3 miles per hour on level stretches of road. Immediately after that interval, take a shorter break, and then repeat the cycle three to five more times.
Cross-Train.
Weight loss cycling is a terrific exercise, and when combined with other forms of activities, it may help you lose weight more quickly. On days when you don't go riding, do a simple strength training session at home or go for a stroll to burn calories.
Make Sure To Leave The Earphones At Home.
Unless you are exercising indoors on your trainer, you should never listen to music or ride with headphones in your ears. Even if you are on a well-lit and well-protected bike route, it is critical to be able to see and hear everything that is going on around you.
Don't Ride While Talking On The Phone Or Texting.
Keep your cell phone in a safe place in case of an emergency. Biking while chatting on the phone or texting might be just as risky as doing so while driving a vehicle.
Keep An Eye On The Weather Forecast.
Biking is very dependant on the weather. You should not be surprised if your speed drops dramatically one day owing to severe winds or extreme heat. When evaluating your exercises, look for patterns rather than comparing individual days to one another.
When it comes to losing weight, biking is a fantastic method to burn calories while also relaxing and enjoying the great outdoors. Invest in safety equipment as well as the most appropriate bike for your body type to ensure that your rides are both safe and pleasant.