Rehabilitative treatment is divided into two categories: physical therapy and occupational therapy. The objective of rehabilitative treatment is to improve or prevent your condition or quality of life from worsening due to an injury, surgery, or disease. While physical therapy and occupational therapy have certain parallels, they also have significant distinctions. In the following paragraphs, you will get occupational therapy vs physical therapy details.
Occupational Therapist Assistant vs Physical Therapy Assistant Salary
If you want to work as an occupational therapy assistant or physical therapist, you should think about average pay. Of course therapists gets different figures when it comes to salary. We'll look at the typical income for occupational and physical therapists. Additionally, you will find ways to raise your salary, and a list of higher-paying occupational and physical therapy professions in this post.
Occupational Therapist Assistant
An occupational therapist's average annual income is $84,387; however, occupational therapy salary may vary depending on your experience, location, and kind of facility. According to the Bureau of Labor Statistics (BLS), as the population ages and medical advances are achieved, the job outlook will rise 16 percent by 2029. This shows that the future of the profession is bright. The occupational therapy jobs are yet to be abundant.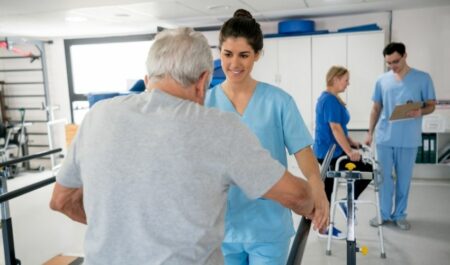 Physical Therapy Assistant
In the US, the national average income for a physical therapist is $82,373 per year. However, payments may vary depending on region, experience, and the location of your work. According to the Bureau of Labor Statistics, job opportunities in this area will rise 18 percent by 2029. As the baby boomer generation ages, this trend is anticipated to continue.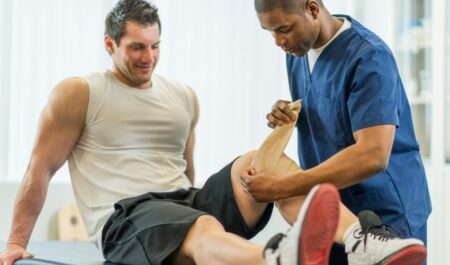 Occupational Therapy vs Physical Therapy Careers
Occupational Therapy Careers
As much as you consider to be a therapist, you should check out the Occupational therapy schools.  Occupational therapists must be qualified by the National Board for Certification in Occupational Therapy and licensed by their state (NBCOT). The American Occupational Therapy Association (AOTA) offers specialized and subspecialty certificates after you've earned experience.
Physical Therapy Careers
To work as a physical therapist in the United States, you must first get a Doctor of Physical Therapy degree. And you should get this from an authorized school institution and be licensed by your state. This generally takes three years. The American Board of Physical Therapy Specialties offers specialist certifications when you've earned expertise in your profession (ABPTS). 
Neck Tension Physical Therapy vs Occupational
Back and neck discomfort are fairly prevalent ailments that many individuals experience throughout their lives. Back discomfort is one of the most common reasons that makes individuals visit the doctor or miss work. Neck discomfort can affect even school-aged youngsters.
Neck and back pain can be treated using a variety of treatments in physical and occupational therapy. The spine's supporting structures are the focus of physical and occupational therapy for these disorders. Tendons, ligaments, muscles, and joints are among them. Both occupational therapy vs physical therapy commonly use stretches, exercises, and adjustments to alleviate neck and back discomfort.
Certain therapists also use aquatic exercises to make therapy go even more smoothly. The buoyancy of the water relieves strain on the cervical and lumbar spine as you execute the activities. Thus making aquatic treatment beneficial.
Heat or ice therapy, massage therapy, electrotherapy, and ultrasound therapy are examples of passive physical and occupational therapy. Heat or ice therapy can improve blood circulation and reduce swelling and inflammation, speeding up the healing process. Massage treatment relieves pain by relaxing muscles.
Electrotherapy involves sending electrical pulses straight into sensory nerves to block pain signals from reaching your brain. Ultrasound therapy penetrates deep into tissues and provides a calming sensation to the afflicted areas using sound waves.
Physical Therapy vs Occupational Therapy Function
Functional activities are meant to improve your body in doing day to day activities. Physical therapy functional activities improve your body movements. That is, it can improve your body joints. As for occupational therapy, it helps your body to cope with physical band emotional stresses.
Job Satisfaction?
People of all ages with impairments, injuries, or other difficulties that impact their mobility or capacity to care for themselves are served by occupational and physical therapists. The two professions have certain parallels and contrasts in terms of everyday work, education, salaries, licensure, and job satisfaction. According to the National Opinion Research Center, physical therapists have a very high level of work satisfaction. 
Income and the time and cost of the training process may be variables in deciding between various jobs. Physical therapists go to school for longer and earn significantly more. Both vocations allow for part-time work and different work environments, including opening a private practice. Physical therapists appear to have the most work satisfaction of the two. However, both professions have higher-than-average levels of job satisfaction, according to U.S. News & World Report.
Parkinson's Disease
Parkinson's disease has several symptoms that impair mobility. Tight muscles, tremors, and difficulty maintaining your balance can all make it difficult to navigate securely without falling. One method to alleviate your symptoms is to take the medicine your doctor recommends. Parkinson's disease physical and occupational therapy can also help with mobility issues. These programs educate you on how to stay active and independent by teaching you techniques and skills.
Occupational Therapy For Parkinson's Disease
Limited movement can do routine chores like getting dressed or taking a shower more difficult when you have Parkinson's disease. Occupational therapists give you the skills you need to function in everyday life, whether at home, at work, or with friends.
A therapist will assess your home, office (if you work), and daily routine to identify areas where you may benefit from assistance. An occupational therapist can also provide suggestions for improvements to your house. Your house will be safer as a result of these modifications.
Physical Therapy For Parkinson's Disease
Physical therapy is a treatment that aids in the development of strength, flexibility, balance, and coordination. It begins with assessing your existing abilities to pinpoint the areas of movement that are causing you issues. The therapist will teach exercises and other strategies to enhance strength, coordination, balance, and mobility.
Find a therapist with expertise in treating Parkinson's disease or comparable diseases to get the most out of your physical therapy sessions. This sort of training should be available to therapists who are board-certified neurology specialists (NCS). Request a referral from your neurologist.
Physical Therapy vs Occupational Therapy in Hospitals
The physiotherapist and occupational therapist have similar jobs. However, their roles are a bit different. Interestingly both of them operate in similar places. You can find a physiotherapist and an occupational therapist in hospitals. However, the treatment from physiology is different from an occupational therapist.
The physiotherapist focuses on your physical body, making it better to make movements. Then the occupational therapist make sure that you find an occupation to keep yourself busy.
Therapy Aide
Physical therapists and occupational therapists, for example, frequently collaborate with assistants and aides who do regular duties. Physical therapy assistants (PTAs) and occupational therapy aides (OTAs) must operate under the supervision and guidance of a licensed therapist. Their schooling and employment responsibilities are comparable. However, their work environments and earnings may differ somewhat.
Physical Therapy Aide
Physical therapy aids patients in regaining or improving their mobility and strength, as well as relieving pain. PTAs are most likely to aid patients with insurance paperwork, set up or clean a treatment space, answer the phone, arrange appointments, and conduct clerical chores. 
The majority work full-time, with others working nights and weekends. PTAs often have a high school diploma and get on-the-job training that might last a few weeks or months. Compassion, attention to detail, manual dexterity, physical stamina, and excellent interpersonal skills are desirable traits in a PTA.
Occupational Therapy Aide
Occupational therapy assists patients in learning, regaining or maintaining fundamental life skills such as dressing and eating. OTAs assist patients with billing and insurance forms. Moreso set up equipment, prepare treatment spaces, conduct secretarial duties, and assist patients in moving to and from treatment areas.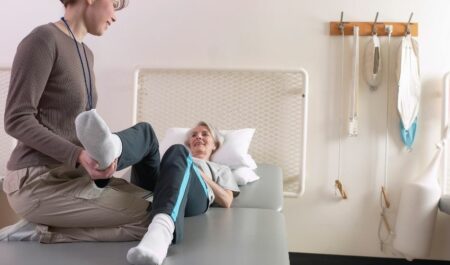 They may also place orders for goods or replenish shelves. OTAs often work full-time, with some evenings and weekends thrown in for good measure. An OTA usually has a high school diploma or its equivalent and some on-the-job training. Then, OTAs must be detail-oriented and have compassion, physical strength, and strong interpersonal skills.
Which is Better
So, how can you figure out which therapy is best for you: occupational therapy vs physical therapy? That is dependent on your medical condition and individual requirements. If you have a problem that prevents you from walking or moving a body part without discomfort, you should see a physical therapist. Through focused exercises, stretches, and other approaches can help you reduce pain, increase mobility, strength, and range of motion.
Perhaps you've noticed that simple actions like picking up things or getting dressed are becoming more difficult for you. Working with an occupational therapist in this situation may be beneficial. Then, it is improving the motor skills required for these specific jobs. It's critical to discuss the sort of therapy that's best for you with your doctor. They can assist you in understanding the advantages of each therapy and which one is best for your requirements.
Final Thoughts
Rehabilitative treatment includes physical therapy (PT) and occupational therapy (OT). While they share many of the same aims and treat many of the same ailments, they are not the same. You have pretty much gone through occupational therapy vs physical therapy in the above text, you can recall. Physical Therapy focuses on restoring or increasing range of motion, strength, and mobility. Then, occupational therapy attempts to enhance the motor skills required to carry out daily duties. Occupational therapy programs are also praised in many countries. 
Your unique ailment and needs determine the type of therapy you select. So, working together with your doctor can assist you in determining which therapy is best for you and your objectives. 
Anyone who has one or the other experienced occupational therapy vs physical therapy? Share your experiences below.